High Rise Tyre Racking
Euro Span Tyre Racking Bays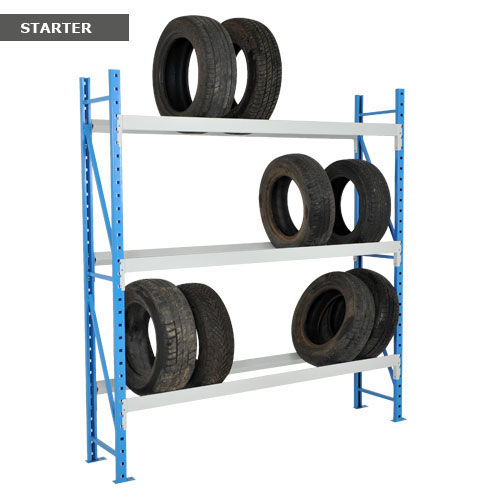 High Tire Racking

Euro Span High rise tyre racking is designed for the bulk storage of tyres and wheel rims in the warehouse area. Comprising of high end frames and long span beams at multi levels this system offers high density storage of tyres while still allowing easy picking of individual tyres. Tyres sit within shelf levels
End frames are available in a variety of heights to suit the height of the storage area. This high lift storage system can be installed as single entry runs of tyre racking up against a wall or as back to back runs allowing access from both sides of the row.

Rows can be easily extended by the addition of extra add on bays.

Utilize the height of your building with high tyre racking. The efficient cost effective way to store tyres and wheels.
Supplied as starter bays and add on bays to form multiple bay runs of tyre racking
Heights 1750 & 2500mm

Depth 400mm

Load up to 370kg UDL per level
Other heights available on request
Option of 1250mm, 1800 or 2250mm wide bays
Colour: Blue frames and grey beams
Starter bay (2 end frames and 3 or 4 pair of beams)
Add on bay (1 end frame and 3 or 4 pairs of beams)
1750mm high x 400mm deep bays with 3 levels

Starter Bay

Add-on Bay








2500mm high x 400mm deep bays with 4 levels

Starter Bay

Add-on Bay








Other garage equipment available
| | | |
| --- | --- | --- |
| | Workbenches | |
| | | |
| | | |

| | | |
| --- | --- | --- |
| | Tyre Racks | |
| | | |
| | | |

| | | |
| --- | --- | --- |
| | Perfo Tool Panels | |
| | | |
| | | |